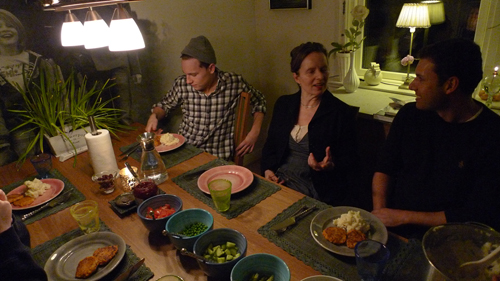 A few weeks later.
A few nice weeks of hot showers, coffee in the morning and movies every night. Comfy bed to sleep in, supermarket next door, friends over for dinner every other night and actually, jobs rolling in like never before. It has been an amazing homecoming.
We still wake up every morning and go to sleep every night saying to each other "This is a damn good life!"
Quiting your job to do something different might be scary. What if you don't find a new job when (if) that time comes? What if you will fall and not fly. We've heard all those things. That it would be more safe and secure for us to upgrade at work than to quit. What happens when we run out of money?
Well, here we are, and we've already been working for a while at our new jobs. And more offers keep rolling in.
Do you know what people say when they call us in for interviews? They don't care much about our previous working experience. They don't look too much at our references. But they DO care for that we've hitchhiked from Poland to Pakistan. That we've driven a website at our own initiative and with our own imagination. That stands out. That is something to talk about. That seems to qualify us for any job we like.
We are not exhausted after the week when we have breakfast Saturday morning. We're boiling over with new ideas for new project, cause our minds are fresh, and we feel fresh.
Quiting our jobs was probably the best thing we'd ever put on our CV.