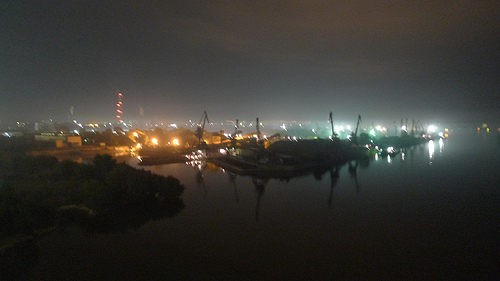 The adventures in Bulgaria started when we crossed the border by foot in the night, two weeks ago.
It was a long walk over the bridge.
For each step we got covered in a newly spun spider web. Our faces were more or less white at the end of the 3 km long bridge. At the end we could see through the thick mist into the harbor of Ruse, Bulgaria. We had entered!
Our dreams about Bulgaria started in April 2010 when we met a Bulgarian man in the French Pyrenees. He basically told us that Bulgaria was amazing, a very delicious country. His stories were all the info we had when we entered.
The first thing we noticed was that the every single local bus has a driver and a conductor.
Also, the food was considerably cheaper than in Romania or any of the other countries we've passed so far.
We arrived to Palamartsa the second night, and stayed for almost a week with our British friends, Chris and Claire. They have just bought a house and are working towards self-sufficiency! Their friend James from Britain also visited during the same time.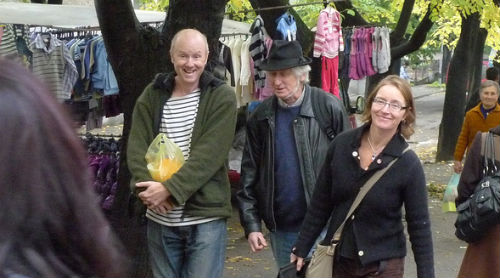 Chris and Claire gave us a ride to Varna, a hot spot on the Black Sea coast. They helped us arrange the Chicken Dance, which was a bit harder than usual, when it came to convincing people to join.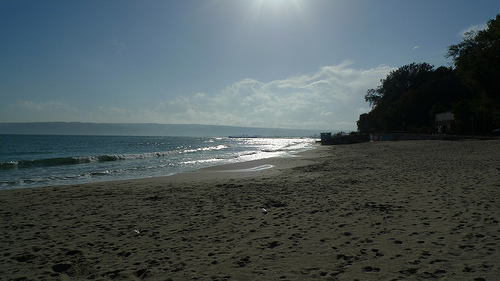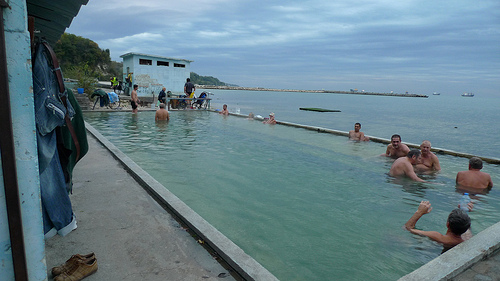 Varna has thermal baths that are located directly by the sea. It is free, hot, very social and simply amazing!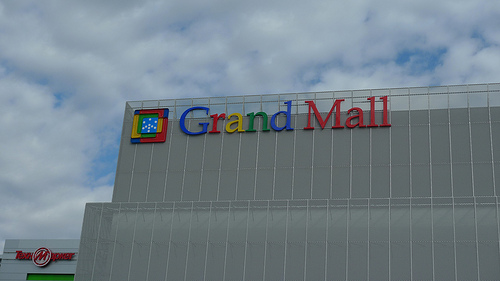 After a nice conversation with Breno Cola we decided to buy a new dicta phone (Robin dropped the old one) so we spent half a day in Varna's Grand Mall. Obviously, the designers had run out of imagination when designing it's logo…
We went to the doctor to get our vaccinations done. The hospital system surprised us. In Bulgaria you buy your own vaccine (hypodermic needle) at the pharmacy and then you bring it to the doctor who injects it.
After arranging the Chicken Dance in Varna and spending half a day in Burgas, we left Bulgaria, hopefully not for the last time.
Bulgaria was an interesting experience for us, though we only visited parts of it. It's a cheap travel destination with all the requirements for a good vacation. The people are warm hearted and helpful, even though most of them don't understand English. This language barrier usually brings up other ways to communicate. How about about sharing a glass of local Rakia with a complete stranger? A regular Bulgarian greeting. Nazdrave Bulgaria!
Thank you, blagodaria:
Nicolai, who drove us from Ruse to Razgrad, and also gave us Bulgarian cheese and wine, it was delicious!
Niko, who saved us from spending the night in the wild, and gave us the best flash light ever! Robin has been using the laser to hunt mice…
"Whild Thyme" (Chris and Claire) and James, for a fantastic weekl, full of laughs, hard work, wine, brandy, archeology excursions and mud. Love to you!
The random man, who drove us from Varna to the street where people work as prostitutes.
The other man, who drove us from the street where people work as prostitutes, to Ozbor, near Burgas.
Anton, who took us the rest of the way to Burgas.
The friendly man, who drove us from Burgas to Turkey, and also bought us coffee. Amanda apologizes for the seat belt and the door…
You rock!
The Chicken Dance Tour