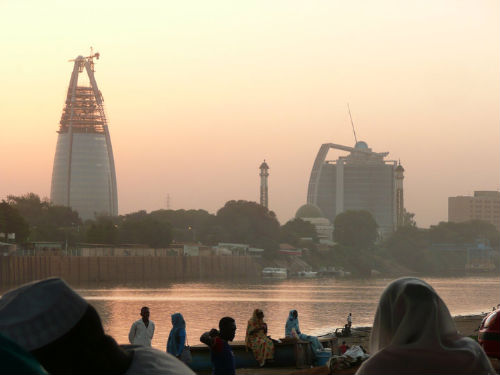 I went to Africa alone last year, when I had just turned 19. I had returned to Sweden after 6 months in NY, and I was hungry for new impressions. While I was working my ass off that summer, I dreamed about going to Africa, and I decided to do so. East Africa attracted me the most.
I started looking for company, but it turned out to be a lot harder than I had thought. So, I said to myself: I'll just go alone then.
Then I started telling others about my plans. This was a very interesting period, because I got to see the most unbelievable reactions.
I especially remember receiving a phone call from a friend of a friend of a friend, screaming in my ear that I knew nothing about what Africa was like and that it surely was different from my little town.
I let this person ab-react for a few minutes before I calmly answered that I didn't expect it to be like home. I expected something different, otherwise I would never have to go anywhere at all.
It was the "19 year old girl going alone to Africa, what a scandal"-syndrome that I couldn't help finding a big interest in. Why was it so dangerous? I kept asking people, and really, most of them had nothing to say.
So I made a list of dangers, then I crossed over the ones that I felt willing to face, until there was nothing left. I figured if I booked a hostel and a transfer from the airport, brought nothing that I was afraid of loosing, and a big portion of common sense, what would be the worst thing that could happen?
If I would panic as soon as I got out of the airplane, I could probably book the next flight back to Sweden. (Assuming they would have toilettes even on the African continent where I could hide while waiting for my flight, and that I wouldn't have time to get raped, robbed and killed before I locked the door, because that was what it sounded like when people heard I was leaving.)

I flew in to Kenya and went overland through Ethiopia, Somalia, Sudan and Egypt during 5 months. I had the best time ever, I was never afraid, and nothing bad happened to me.
Of course, this was rough in many ways. It was extremely tiering, I can tell you numerous of stories, but none of those make any sense to why it would be so impossible for me to make this trip.
It all depends on your attitude. If you walk around looking scared to death, you most likely put yourself to danger. If you walk tall, people show you respect.
People eat and drink all over the planet, people have a life even in the countries that we might just associate with bombs and poverty. THIS is important! I'm not saying you should take any extreme risks, all I'm saying is that you're not automatically risking your life because you travel alone. What you risk is loosing your satisfaction at home when you discover different worlds. You might feel like you've just dipped your toes into the water and now you want to swim. I think that is a good thing.
I already stood up and responded lots of reactions before. Now, nobody tells me it is stupid to go hitchhiking to India.
I am not surprised, but I still find this very interesting. I know that other peoples reactions can make you feel more insecure than curious, but my advice is to try and use it in a positive way. That is what I'm doing in the moment of writing this text!
Do you need support in standing up for your ideas? Send me an e-mail!
Good luck! / Amanda