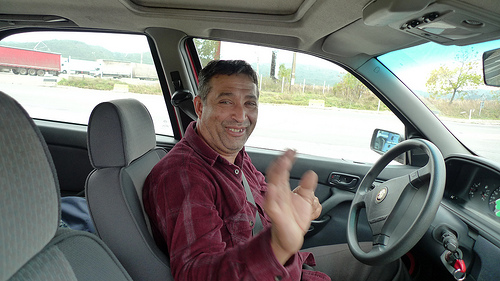 Do you want the most unique experiences when you travel?
Here's the key: Stand by the road and stick your thumb out.

Plenty of travelers all over the world are searching for the "authentic moment". They bring their guidebook when they take off to meet with the origin tribes living in the jungle, with the ideal scenario that no one else ever went there. Though the regular truth is there are no native, unexplored tribes listed in Lonely Planet.
Neither are there many places in the world where you're far away from electricity or even from the Internet. Still, many people picture this as very exotic and romantic.
Searching for "the authentic" is usually the least authentic experience you'll ever get!
Hitchhiking has exclusive features that are not comparable with any other sort of transportation. It is not always the most comfortable way, but there are different thing that makes the life of a hitchhiker very rich.
The value of the meetings taking place on the road is special. You feel a big respect for the people that pick you up. You take part of their real daily life. They would have driven down that road no matter if you were there or not, compared to any commercial business built up for tourists.
And, it's for free.
So what is to prefer: Paying a masai family to show you how they "make traditional fire", or actually meeting people in their own action?
Hitchhiking – Very authentic!
Read more about authentic traveling: