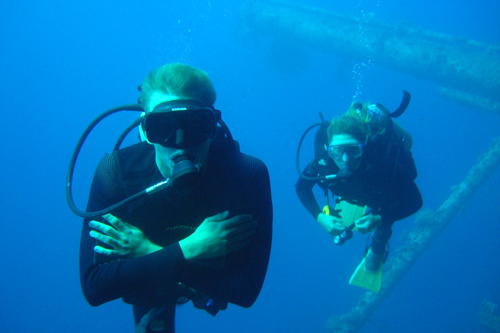 Jordan is diving, desert, history and hummus. A beautiful and calm place next to Iraq in the east and Israel in the west. A few kilometers from Egypt and the edge of Africa. Some of the most famous places mentioned in the Bible can be spot from the road, like a living museeum. What could be a more exciting location?!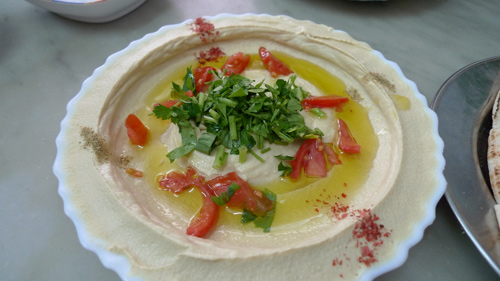 Our stay in Jordan begun in Irbid, next to the Syrian border. We spent most of our time here by our computers actually, since we were both sick. Used to the Syrian late opening hours, we thought that Jordan went to sleep quite early in comparison. The temperature and the prices went up a bit. But cheap food is often the best food. Jordan is the hummus-heaven on Earth! Breakfast, lunch and dinner.
During our short stay in Amman we ate all our meals at Hashem, the old legendary restaurant in the heart of the city. Falafel, hummus, fuul and chai, and it's always packed!
We had a bit of a hard time explaining the concept of hitchhiking all the way through Jordan. But never stop creating!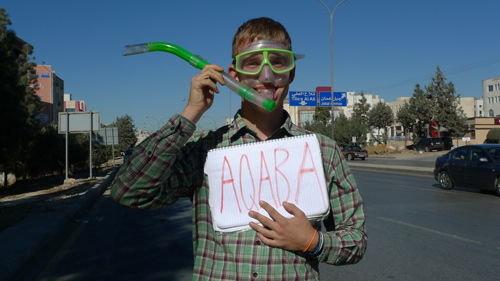 Our newfound friends, the Bahar family living near Madhaba, invited us to their house and drove us to the Dead Sea through the lowest point on Earth. So beautiful! Unfortunately, it was too late in the evening to swim in the salt lake. But we got to swim a lot during the rest of our stay.
Our main reason for going to Jordan was to learn how to dive, which we did in Aqaba. There we camped on the rooftop of our dive center/hotel – The Red Sea Dive Center.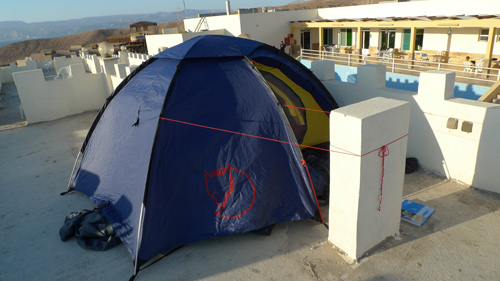 The best deals are not those found in the Lonely Planet, it is the ones you create along your way!
Diving was an extraordinary experience and it was so much fun.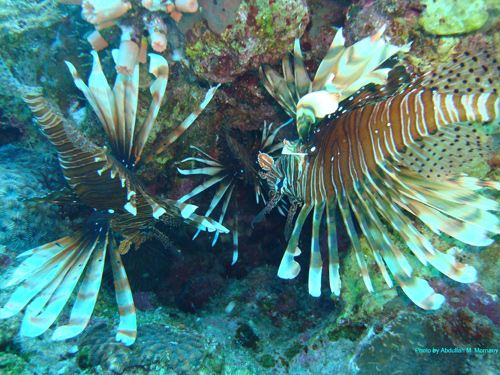 The Red Sea is a paradise though our instructor, Omar told us that the coral reefs are slowly dying. No sharks in sight, and all the locals seemed secretly happy about the Egyptian shark-attack on the other side of the sea since they claimed all the tourists would now come to Jordan instead…
The many Egyptians who come to Jordan to find work seemed less excited about the attack.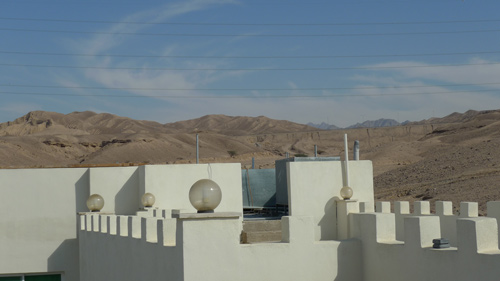 While in Aqaba, we got a surprisingly high amount of free rides with taxi drivers. A very ironic way of hitchhiking, but we don't mind!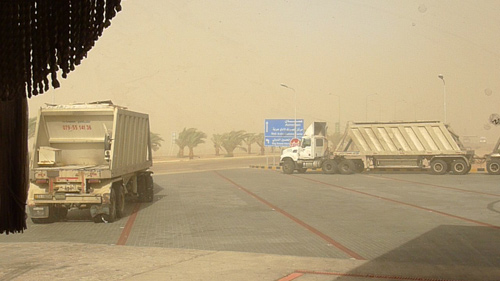 After being stuck in Aqaba for one day because of a massive sand storm resulting in cut off roads, we returned to Amman. One Chicken Dance and a few bowls of hummus later we were ready to leave.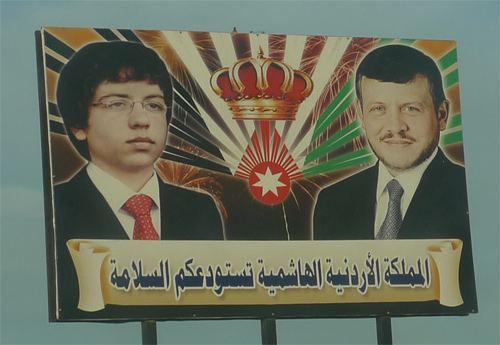 Jordan's prince Hussein would make a splendid Harry Potter
Our impression of Jordan is very much based on the friendly people and the beautiful landscape, different and well worth seeing.
The best way to discover Jordan is probably on a higher budget than we have at the moment. There is lots to see and do, so we'll more likely come back for holidays here sometime. We've didn't visit Petra or Wadi Rum for instance. And, compared to Egypt, Jordan is hassle-free.
Thank you / Shokran:
San, who drove us from Irbid to Jerash.
Gossun and Yahay, that drove us from Jerash to Amman.
The Bahar Family, who invited us over lunch and drove us around the Madaba-region.
Ali with family, who drove us back from the Dead Sea to Amman.
Alfred and Nathalie, who drove us to Madaba.
Mofas, who drove us to the airport road.
Mohammed, who took us all the way to Aqaba.
Mosa, who took us out for breakfast and drove us to the main road.
Arafat, who tried to give us a ride through the sand storm but got hindered by the police.
Adnan, Whalid and Mohammed, who took us to Amman from Aqaba.
The friendly U.A.E man, who drove us to Jerash from Amman.
Ferit, who drove us from Jerash to Syria, wants a Swedish wife and invited us to his home for chai.
Shokran, you fríendly Jordanians :) !