Maybe we got lucky when we jumped in to the first car on the border between Poland and Slovakia. It turned out to be a lot harder to find a ride OUT of this small but in many ways rich country, located in the very middle of Europe.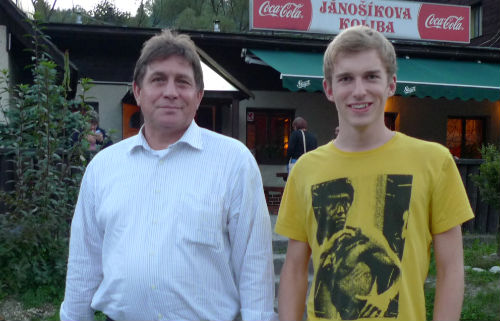 Our first driver Frans, a nice man from Bratislava previously working for Volvo, drove us through the heart of Slovakia and invited us for a Slovak meal at a road diner as he told us endless stories from his interesting life.
Slovakia looks like a typical fairy tail with old castles resting high upon mighty hills, and picturesque little houses with sharp angled roofs.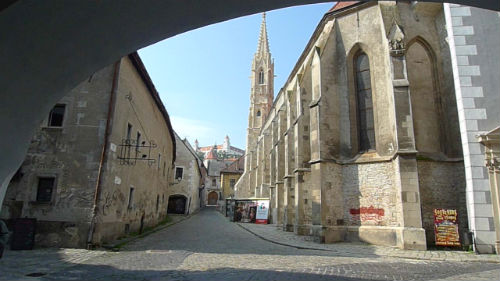 We spent three nights in Bratislava, probably the smallest capital we'll ever go to with only half a million habitants. With the feeling of a small town and walking distances just as comfortable, Bratislava gave us an interesting time!
Thanks to our host Martina, we got to experience a local wine festival outside the city where we tried the fresh made wine, heard some Slovak music, and run bumper cars for the first time in about ten years.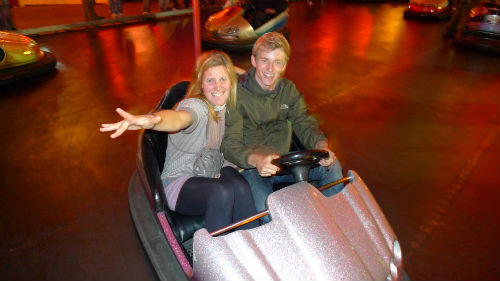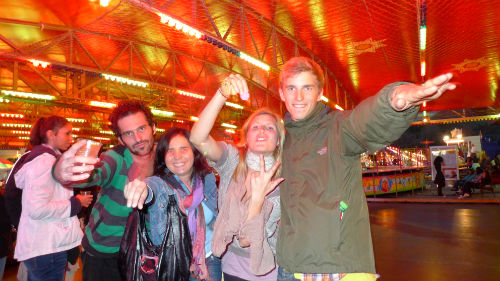 We also joined a commonly organized CouchSurfing meeting, where we met lots of nice people engaged in the network. Since we're not yet very familiar with CS, this was the first time that we saw the social importance between the hosts, who all seem to know each other! Martina also took us out dancing at a rock pub in town. Great fun!
As we mentioned, it wasn't as easy to get out of Bratislava. We actually tried for two days in a row with nothing but a few laughs from the drivers as they saw the "INDIA"-sign.
After a couple of hours by the road the second day, we heard a voice calling us from behind. Up came a women with a nice smile, waving with a big package of chocolate that she wanted to give to us. She pointed at our sign with big enthusiasm, and in a mix of languages she said "India! Very, very interesting! Good luck!".
When such a thing happens, your cheeks almost hurts because of your big smile, and of course, that's when we finally got a ride!
Still it took half a day with a few short rides until we finally got picked up on the Hungarian border by a Spanish couple on holidays who drove us all the way to Budapest.
Our host Martina told us about the former effort to hold a Gay Pride Festival in Bratislava, wich was turned down after lots of resistance.
We had great personal meetings that we enjoyed a lot. We also appreciated the service minded, smiling people and the stunning landscape.
There is something very anonymous about Slovakia. Just like Martina said it: "After the news about the death shooting here in Bratislava, friends from all over the world called me to see if I was OK. Here it wasn't such big news! But nobody had ever heard any reports from this city before."
She is right. We can't say we really did.
And we are glad to help changing that.
Ďakujem / Thank you:
Frans, who showed us the heart of Slovakia and drove us all the way to Martina.
Martina, who hosted us in Bratislava and invited us to the wine festival!
Ignacio, who drove us to a better spot!
Mystery road workers, who drove us to the border, just for fun! We loved it!
Without you, the story through Slovakia would have different main characters. Thank you for being a part of it!
Ďakujem moc
The Chicken Dance Tour
[posts-by-tag tags = "chicken-dance-slovakia" number = "0" order_by = "date" order = "desc"]