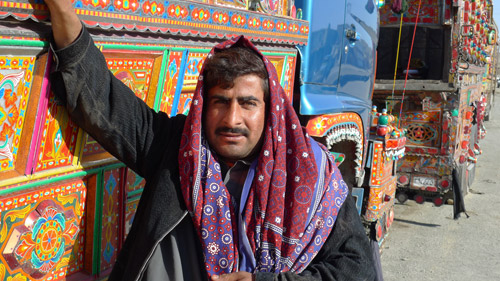 We entered Pakistan at Taftan, the border that lies directly under Afghanistan. The differences between Iran and Pakistan were more than clear, it was like stepping into a whole new world!
Scarf off, cool English accent, spices, dark skin, goats, rickshaws, colors, trashes, smiling people everywhere, bikes, donkeys, fruits and horses – all in an incredible mix! When we had crossed the border to Taftan, we were immediately sent off to the local Levi Force station. There was no chance we could hitchhike anywhere, because of the security situation around the Afghanistan border. We wanted to get to Quetta, and the only way to get there was with an armed guard from the Levi Force and on a bus. We love the fact that Pakistan accepts tourists at that border even though they believe that the security situation is not perfectly safe.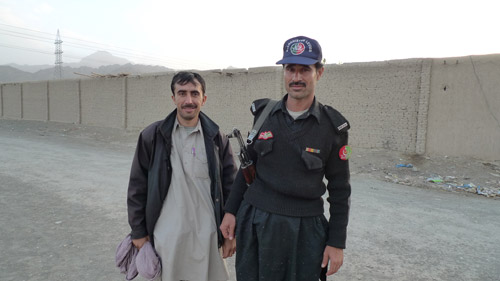 The Levi Force treated us really good. The bought us dinner and arranged a room where we could spend the night before departure to Quetta. Our guard even stayed in the room next to us, and bought us breakfast in the morning. All this for free!
This was our first experience of not hitchhiking during the whole trip, and of course that made our impressions a bit different. But a bus ride itself is quite a show in Pakistan. The buses and trucks all as colorful as circus caravans with all sorts of beautiful decorations. All these colors makes Pakistan a joy to visit! Not too many people do though – during our two weeks in the country we saw only one other person who we suspect might have been European.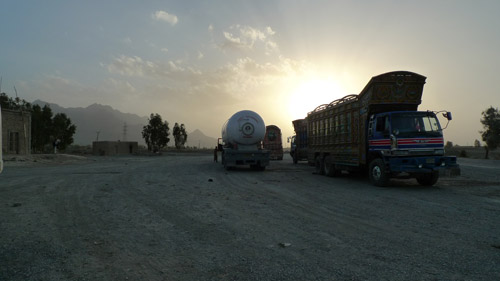 Anyhow, we could finally compare hitchhiking with traveling by public transport and found ourselves a bit more worried about our luggage, our safety and our trust in people than we ever do while hitchhiking. Interesting, since people always warn us and tell us hitchhiking would be very dangerous. We missed the close contact to the driver and the exclusive time in the car that we are so used to. Maybe this is why people without any experience are so afraid of hitchhiking? If you've only traveled by bus you might think hitchhiking will be the same, that you know nothing about who you're going with etc. Though our experience is the complete opposite.
Not only did we have a guard, our bus was also escorted by police cars in the front AND in the back. The drove with blue lights on, and we thought to ourselves that if anybody actually wanted to hurt us, they would know for sure where we were…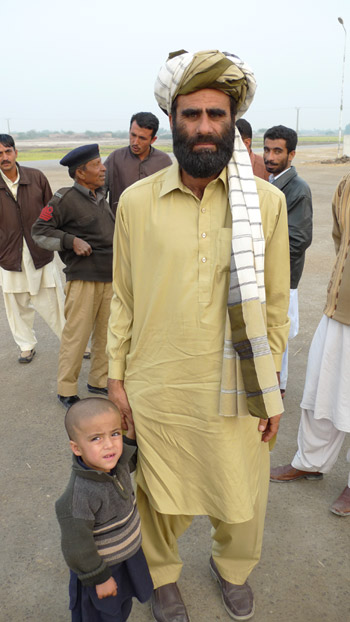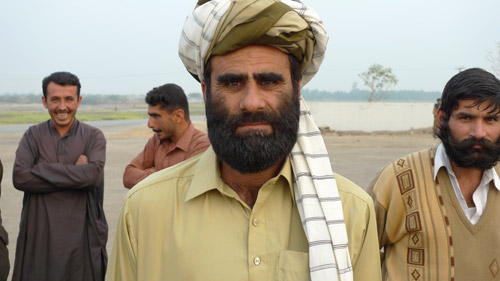 We arrived safely in Quetta, one of the major cities in the Balochistan region. It was a unique experience for us. Quetta had the hectic pulse of a big city, but the looks of a real country village with more motorbikes and carriages than cars. We made some new friends in a juice bar who insisted on buying us something to drink. Nice to meet you, friends!

Old man making chai
Next stop was Lahore, on the border to India. We knew by then that we wouldn't make it into India, but we wanted to go as far as possible. But not even this time could we hitchhiked. The hotel where we stayed in Quetta required to get info about where we were going and when, and we're not talking about "Um… Probably at some time tomorrow", we're talking about what time out bus would leave and what company we traveled with. No hitchhiking for us!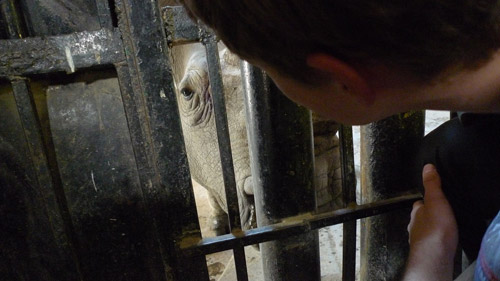 Lahore was a nice city and we met many helpful people. We always felt like a walking attraction as the only tourists in town, but even more so when we went to Lahore Zoo. We took pictures of the animals. The Pakistanis took pictures of us. Entrance: 1 Euro cent.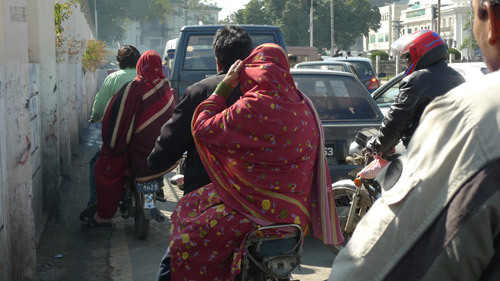 Now, how do we even try to describe the street life in Lahore? So close to India, and yet so unknown when it comes to tourism. Lahore was different from everything we've seen throughout this journey. Every social habit know to human kind seems to take place in the streets. People eat, do their food shopping, pee, get their haircuts and keep their animals in the same spot. Funny, dirty, intense, friendly, to mention some reactions to the Pakistani lifestyle. We were also impressed to see how hard people work. Everybody is busy, one way or another. There is no sitting around, or complaining. We saw plenty of camps along the roads for people who lost their homes in the floods last years. The electricity goes out at least three times a day for those who have any access to it. All these comforts that we take for granted. But people don't complain.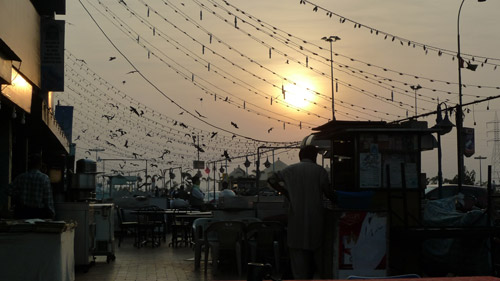 Karachi, the biggest city in Pakistan became our last stop before flying home. It was a very different atmosphere compared to Lahore and Quetta. Modern, tall buildings and less animals. Karachi is SO BIG! Luckily we got well taken care of by some new found friends. CouchSurfing.org proved itself once again to be an amazing network. This time we stayed with three new friends, one night each; Moiz, Fasahat, and Ayesha. Together with some other Couchsurfers we got invited to a great party arranged by Khawar, another member of CS. He rented a boat, filled it with CouchSurfers, food and Coca Cola and it was so much fun! Certainly the best CS meeting we've ever been to. You people have a rare enthusiasm and a drive filled of love. THANK YOU!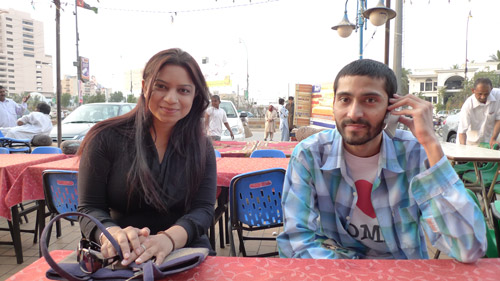 Moiz arranged a meeting for us with a guy who studied Sufism, which is an Islamic sect. He also brought us to the "Dance for a Cause", where we arranged the Chicken Dance. Fasahat brought us to his family and connected us with his colleges at the TV channel where he works and Ayesha invited us to her family. It was an honor to be the first CS experience for her nice family who brought us out for dinner. We want to thank all of you for making our time in Karachi a great end of this journey. We almost didn't want to leave!
Thank you / Shukria:
Levi Force in Taftan who secured our ride through Balochistan
Beebarg and Ali for the juice and the nice talk in Quetta!
Moiz who hosted us and introduced us to lots of nice people in Karachi. We really appreciate it!
Fasahat who also hosted us and took very well care of us!
Ayesha with family who took us out for dinner and let us stay over. So much fun!
Khawar who arranged the nicest CS meeting we've ever been to.
All the other members of CS in Karachi, it was great meeting you!
The Sufi member who taught us about sufism.
See you again during the Mango season, friends!