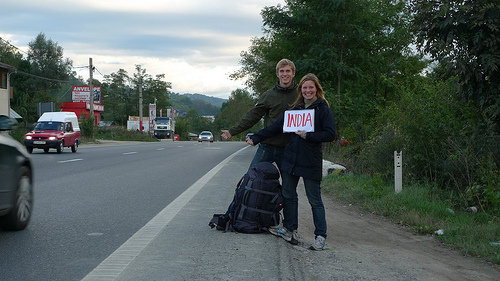 Being a hitchhiker in nature stunning Romania is fantastic, though there is competition! We've sometimes been ten people or more at the same spot, from young teenagers to 80 year old ladies looking for a ride. And we have to admit, we've not always been as quick as our elders!
Music sample between Lugoj and Deva (perfect soundtrack to the text):

One of our drivers, Mr Daniel from Jehova's Witnesses, confirmed the reasons why hitchhiking is so common in Romania. Since the petrol prices have gone up dramatically, it's really expensive to drive here and hitchhikers sometimes shares the cost by paying the driver for the ride. We are very impressed by the hitchhiking system!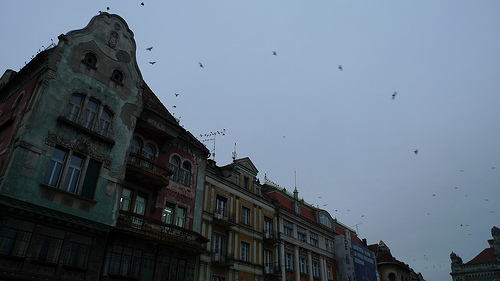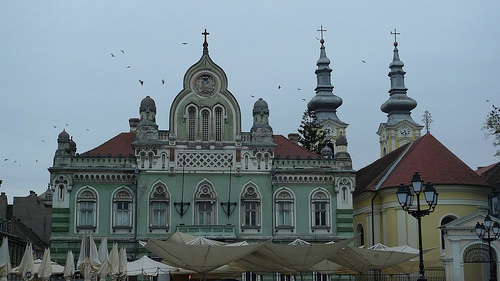 The first two nights we spent in the second largest city Timisoara, near the Serbian border. Here we begun with a funny experience showing a bit of Romanian corruption, as we came across a bus conductor after being told by the driver that we could pass without buying tickets.
Hallelujah, the bargain has begun! :)
We recharged ourselves a bit in this beautiful city full of Romanian character and nice cafés with good opening hours.
Then, it was time for Transylvania! We had plenty of interesting conversations along our way since we could rarely speak English to our drivers. Luckily the Romanian language is Latin related and similar to Italian and Spanish which made it easier for us to pick up.


Passing a village on our way to Brasov.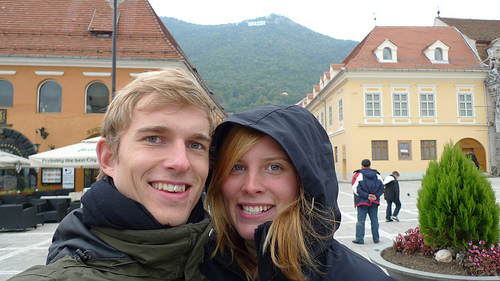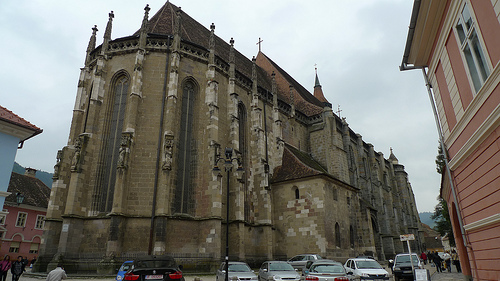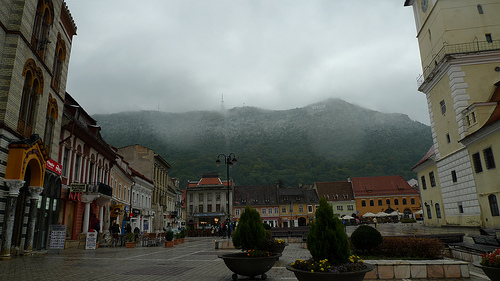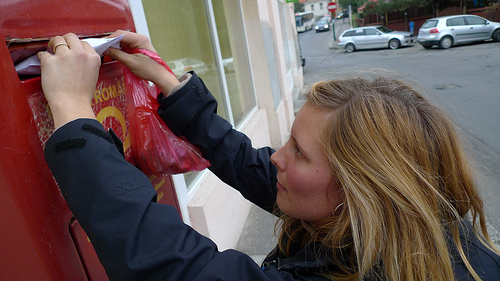 Present on it's way to one of our donators!
Our three night in the amazing city of Brasov was happily spent in a great hostel – camping would have been a disaster since we woke up with SNOW outside the window! This was surprising to us even though it was freezing. We kind of thought going south would make it warmer…!
Brasov feels very dramatic, located between the high mountain peaks of the Charpatians. No wonder the city has a reputation of being the home of Dracula! The old castles in the area is the most popular tourist attraction, and during winter you can go skiing here.
We happened to find as much as 5 friends from Sweden staying in the city at the same time and had a nice hang out with them.
Lots of credits to the Chicken Dancers who broke a new record though is was freezing in the rain! You guys are strong!

To Bucharest we got driven by Sega, a former director in advertisement who had spent a year in India and the countries around. He is currently working on a novel about this journey and inspired us a lot!
We felt very welcome in Bucharest with our CouchSurfing hosts Andra and Razvan. Andra taught us some pottery, something that she'd been doing since the age of 10. It was amazing and really great fun. She also made us Polenta with a Romanian twist: plenty of eggs, cheese and cream! Mmm! Razvan took time from work though he was very busy at the moment to come see us both nights and also coached us a bit in photography. They are also working on something that we believe will turn out to become a great resource for tourists visiting Romania: AboutRo.com – An online travel guide to Romania!
Thank you so much for a lovely time in your home, friends!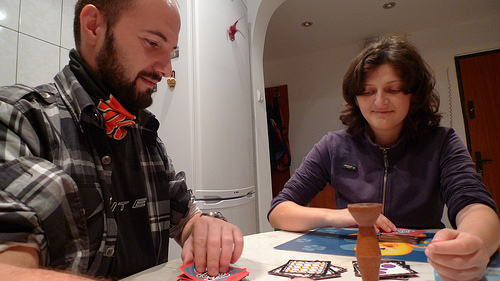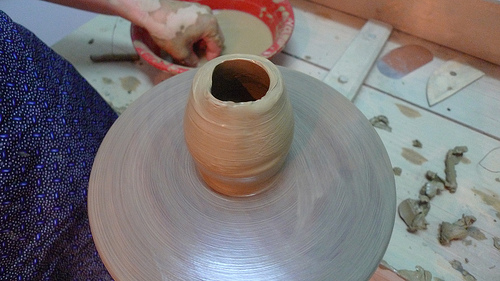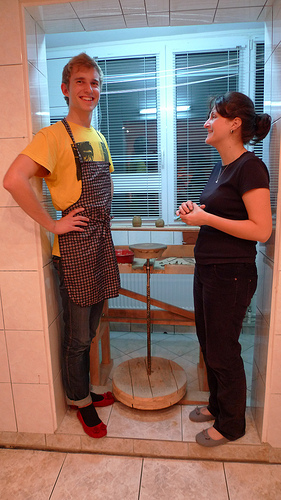 When arriving in the capital city we didn't really expect much since we'd heard it wasn't suppose to be very nice, though we found it calm and beautiful with wide open spaces and big boulevards. Eating and drinking is more expensive than elsewhere in Romania, but there are many nice spots for this.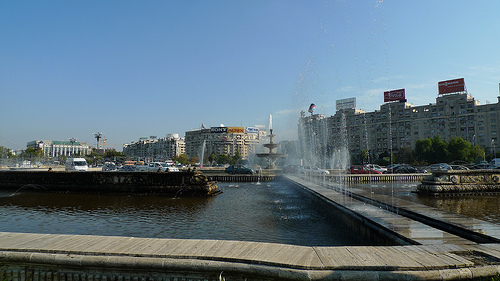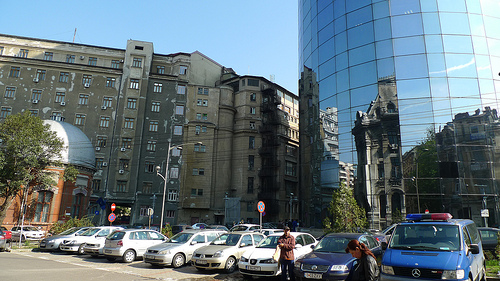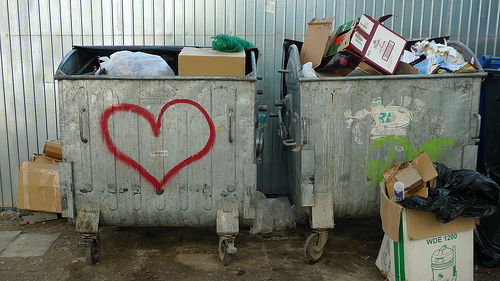 The Romanian streets are full of small bakeries. Almost everyone in Bucharest was eating on a kringle and the smell of freshly baked bread was surrounding us everywhere. The queue to this particular bakery (Cafetaria Georgi) never seemed to end!
We met a broker (a person who deals with stocks) who claimed that the Philippines is very dangerous for white people. He had spent his vacation there, even though he'd heard that "they kill people for 10 bucks". He had not faced any situations personally but he warned us about it. Anywhere we go, people seem to be afraid of something that is ahead of us.
Romania hasn't been any more dangerous than any of the previous countries, even though almost every Polish person warned us about this "very poor and desperate" country. Interesting!
Just like somebody said to us:
"Romania is something in between Europe and Asia. The young generation has a European way of thinking while they are still in the old world."

Mulţumiri foarte mult / Thank you very much
Nico and Cata, who drove us from the border to Timisoara
Alex and Isabela, who got us hooked on Romanian music!
Nico, who filled his car with hitchhikers, including us!
Mr Daniel and Ramona, who taught us more about their lives as members of Jehova's witnesses
Cici, who drove us a fair bit closer to Brasov!
Pop Florin, who drove us to Brasov, and thanks to his wife who joined us over the phone
Sega, who had spent a year in India and around and really inspired us
Andra and Razvan, who were the greatest host one could hope for, taught us pottery, photography and opened up their home!
Bogdan, who picked us up before we even started looking for a ride and drove us from Bucharest to Giurgiu
Thank you all for showing us Romania!